Social Media Optimization (SMO) is an online marketing technique, which is the perfect marriage between Search Engine Optimization (SEO) and Social Media. Just like SEO, SMO also plays an important role in the success of websites. SMO techniques help you promote your products and services, and build a brand value for your products and services in the different social channels like Facebook, Twitter, Instagram etc.
SMO techniques can be used to increase the awareness of your products, or brands in various social media outlets and communities to generate traffic to your website. In addition, it can also be used to connect with your customers, and to decrease or nullify the effect of any potential damaging social media news. The SMO techniques often direct the users from different social networking platforms to your website. SMO is all about strategically planning, building, and increasing the social media presence of your website to connect with the target audiences.
Social Media Optimization will help you to
Strengthen your brand
Improve online visibility and social media presence
Connect with target audience
Generate leads
Importance of SMO
The lines between search engine marketing and social media marketing are becoming increasingly blurred these days. They have been looked at as two different aspects of online marketing in the past, but now remain more interconnected than you think. Google has not yet stated that social media influences its search algorithm, but there are many evidences to prove that it does. The benefits of social media marketing and optimization are well documented and if you are looking to have a solid online marketing strategy, you will need to have a healthy balance between SMO and SEO.
SMO and SEO Integration
A survey conducted to find the importance of SEO and SMO integration proved that about 50% of the businesses that does not succeed with their SEO strategies are not integrating social media optimization into SEO. The below chart compares the complete respondents of the survey and show that almost a quarter of the group are not integrating social media into their SEO strategies.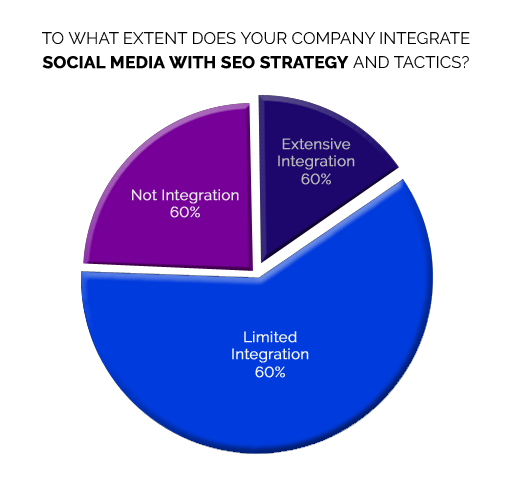 The use of social media marketing as part of SEO strategy makes the difference between the "very successful" and the "unsuccessful" businesses. The below chart shows that thirty-eight percent of the businesses that are "very successful" with SEO, perform extensive social media integration, when compared to the meager two percent that are "unsuccessful" with SEO. You can see that fifty percent of the group that does not integrate SMO and SEO are "unsuccessful" at SEO.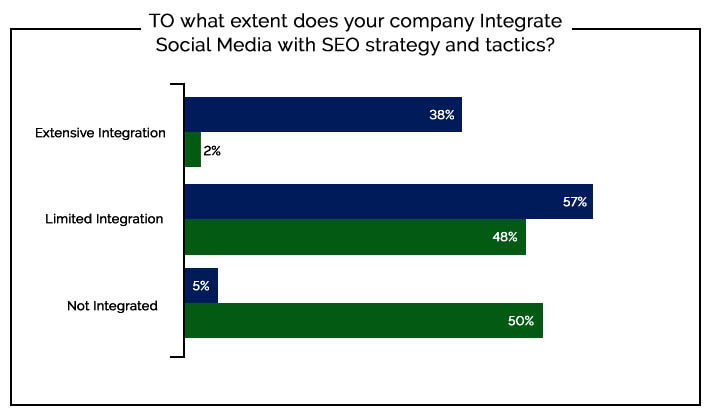 Effective Social Media Strategy
An efficient social media strategy should aim to grow the social media presence of your business to get measurable results. The below points can help you set up an effective social media strategy.
Ensure that the social goals of your business solve challenges
Extend your efforts throughout the organization
Focus on the networks that boost value
Offer engaging content
Locate business opportunities via social media
Engage instead of ignoring
Track, improve and market your social media efforts
Having a documented social media strategy in place can help you measure your position and make necessary changes wherever necessary. Apart from tracking the traffic generated to your website from social media, you will also need to evaluate the various social media matrices that are explained below. These matrices can help you answer the question "Do people like what you are sharing in social media?"
Conversation Rate – This matrix refers to the average number of replies and comments that your social media posts get
Amplification – This refers to the average number of retweets and comments that your posts get
Applause – This is the average number of "votes" that your post will get (likes, favorites etc)
Economic Value – This matrix will help you find the return on investment of your social media strategies
SMO can help you manage all the social media accounts of your business in a connected and consistently branded network to direct your potential customers to where they need them to go. When used in an effective and organized way, social media can prove to be a great asset to improve the organic search result of your website, as it helps you to connect with many people in the online arena thereby extending the reach of your business and products. Moreover, this will increase the chances of people linking to your main business website.
Social Media Optimization techniques can help improve the way you approach marketing on platforms like Facebook, Twitter, Instagram and the other social media websites. It is high time that you formulate a strategic approach to social media marketing and amplify the results.