Search Engine Optimization (SEO) is an online marketing discipline that focuses on improving visibility in the organic search results. Whenever you type in a query in a search engine and hit the "Enter" button, the engine will offer you a list of results, which contains the term that you have searched. Any normal user will only visit web pages displayed at the top of the search engine result page (SERP) as they believe that those pages are more relevant to the search query.
Have you ever thought how Google or any other search engines know which website should be ranked first and which the least? That is what SEO is used for. SEO techniques are used to aid search engines see and rank your web pages higher than the millions of other websites, in response to a search term. In simple terms, SEO can help obtain the right traffic to your website from search engines.
Some Facts on Searches
Search statistics proves that Google is currently the most popular search engine and more than 75% of the internet users across the globe use it for organic searches. The below graph offers a view into the average statistics of search engine usage among users worldwide.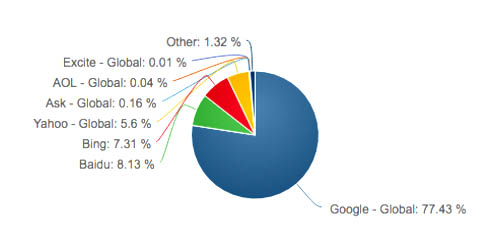 More than 90% of the internet users search by
&nbsp &nbsp &nbsp &nbsp typing in a query into a search engine (Google,
&nbsp &nbsp &nbsp &nbsp Yahoo, AOL, Bing etc)
90% of the users select a website that is listed on
&nbsp &nbsp &nbsp &nbsp the first result page.
More than 85% of all the internet traffic is referred
&nbsp &nbsp &nbsp &nbsp to by the popular search engines.
More than 59% of users clicks on go to the top
&nbsp &nbsp &nbsp &nbsp three positions in organic search results.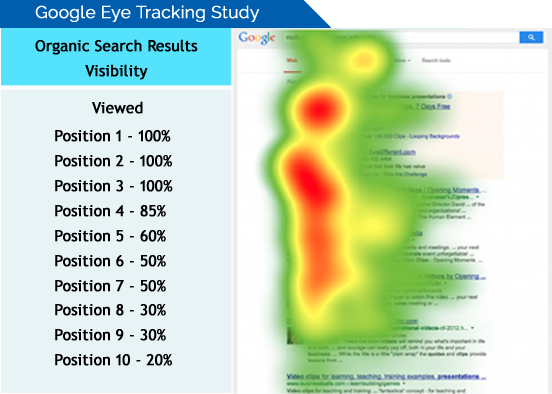 If your website is not in Google Golden Triangle, your chance of being visited by internet users decreases dramatically.
Working of a Search Engine
Unlike human beings, all the search engines are text driven and make use of a spider program that visits websites to read their pages and other documents to make entries for a search engine index. The spider programs usually make use of hyperlinks from the sites that are already in the search engine database. The engine then indexes the content (text and code) by adding it to the database and this indexed content is then periodically updated to offer the most relevant and updated results.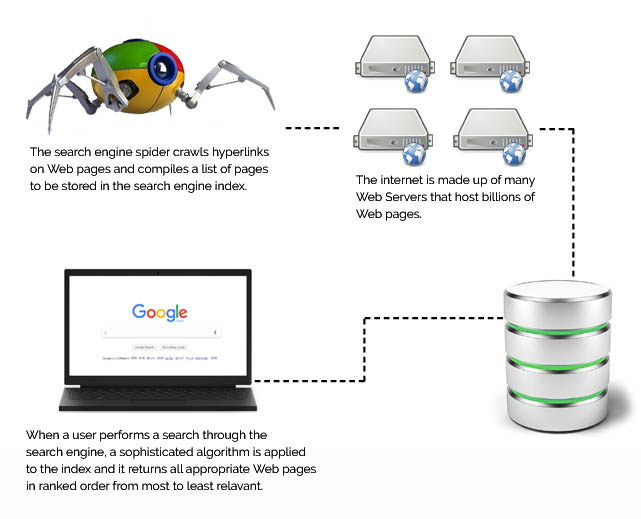 When a user type in a search query, the engine searches its own database and not the web pages, to find documents that are related to the query. The engine makes use of an algorithm, which is updated constantly, to rank the resulting documents. The main activities performed by a search engine for offering search results include crawling, indexing, processing, calculating relevancy and retrieving.
Factors Determining your Site Rankings
Numerous factors affect the ranking of your website out of which the two most important ones are the content and the links. The content shared in your website should be properly phrased to rank it in accordance with the correct search query.
For instance, if you own an Italian restaurant that serves the best pasta in the locality, only your existing customers will know about it. If your website has a page named "Derrick's Italian Food: The best Italian Food In the Neighborhood," you will normally think it is clear that your restaurant serves pasta, but Google is not that smart. Google is no human being. Unless you actually use the term "pasta" in your web page content, Google will not understand that your restaurant serves it.
The content of your webpage tells Google what the site is all about, but we will need to show Google or make it believe that your website and its content is much popular and relevant. Keep in mind that Google tries to display the best and most popular sites first and to know about the relevant and popular website for a search query, it will check the number of web pages that link to your website.
Let us assume that your Italian restaurant is really taking off and your pasta is gaining popularity. Food reviewers and bloggers will be sharing reviews of the delicious pasta served in your restaurant with a back link to the website of your restaurant. Moreover, the local travel and tourism agencies may share stories about the pasta you serve in their websites with a link to your restaurant website. Maybe the local newspaper will share a story online about your business. All this online attention will make Google think that your restaurant is much popular in the area and will display your website top in the search results.
Does your Business Need SEO
Some of us might think SEO as an unnecessary and unwanted marketing gimmick. However, you should understand that Search Engine Optimization is no longer a marketing technique that is used only by some tech savvy businesses. SEO has grown into an industry standard for any business looking to have an online presence. Ignoring the implementation of a proper SEO strategy means that your business will fall behind the competition. If you do not focus on SEO to promote your business online, it would not be long before one of your competitors pushes you out of the way.