The phrase "content is king" has created a lot of buzz among several digital marketers. Even though SEO experts and online marketers still hold debates to prove the accuracy of the phrase, the notable fact is that content is slightly different from the other aspects of digital marketing such as SEO and social media. You could also argue that some of the most prominent digital marketing strategies used by online marketers still exist only because of content.
SEO will have nothing to optimize for search engines without content. The metadata they add to each post is to help the search engines and social media platforms understand the complexities of the content that they are indexing. It is safe to say that each link generated or earned by an online marketer can be traced back to a piece of content. Additionally, the keywords that internet users type in the search engines are also an attempt to find content.
Every tweet, every comment, every product description, and every email are examples of content. Have you ever wondered what each one of them has in common? Each of these different types of content conveys a message to the audience to connect with them. Content is certainly the heart of any digital marketing campaign, which enables marketers to communicate with their clients regardless of what form it takes.
What is Content Marketing?
Content marketing can be easily defined as the use of content for meeting the marketing goals of a business or an organization. This could be retention of existing customers, acquisition of customers, expanding the brand name of your business or anything. This implies that strengthening the content marketing strategy of your company will help you acquire more customers and will also help you expand your business in the long run.
B2B Marketers to Create More Content
Studies conducted by experts have revealed that a major proportion of B2B marketers will be trying to produce more content this year than they did in the previous year. Let us take a brief look at what B2B marketers are planning to do this year.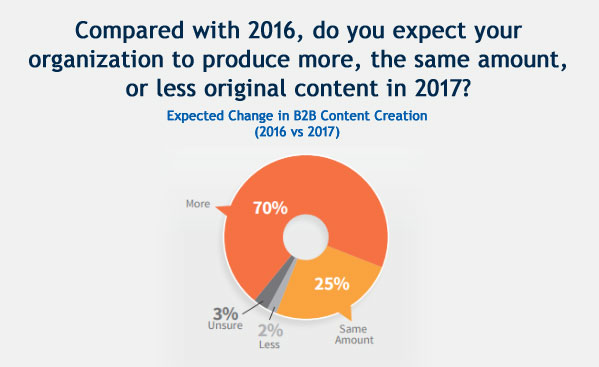 Just as the chart depicts, 70 percent of B2B marketers will produce more contents this year while 25 percent of them will continue to produce the same amount of contents as they did in the previous year. Out of the remaining five percent, 3 percent of B2B marketers are unsure about what they should do whereas the remaining 2 percent has decided to create fewer contents than last year.
Blog Contents will Become More Lengthier
Several online marketers in the country often wonder how long should their typical blog post be? If you closely track the content marketing strategies of last few years, you can easily identify that the length of blog posts has been on the rise. SEO experts highly recommend online marketers to follow this practice in 2017 too.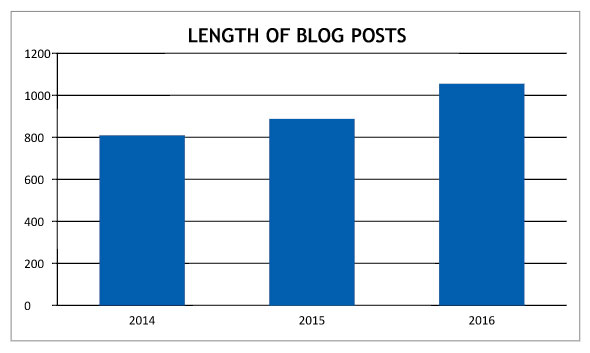 A brief look at the graphical representation will help you understand that the length of blog post has significantly increased over the last three years. B2B marketers created blog posts with average word length of 808 words in 2014.
However, the number of average words per blog posts was slightly increased to 887 in the next year but the biggest change came last year. The average number of words for blog posts was increased by 200 words during the span of time. So, it is wiser to increase the number of words in blog posts in the second half of 2017 too.
Use of Smartphones and Tablets to View Emails
If email marketing is a part of the content marketing strategy of your company, then you will have to make it a lot more mobile friendly this year. This is because the comfort and convenience offered by smartphones and tablets have urged internet users to make use of these devices to check emails and access social media platforms.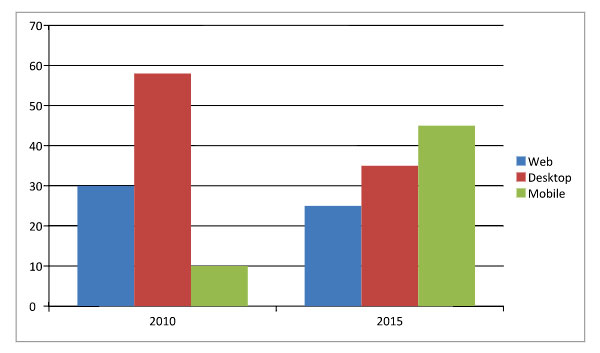 The above drawn graphical representation clearly depicts that internet users prefer to access emails from their mobile devices. The number of users who used the web to access emails in 2010 was approximately 28 percent but it dropped to 23 percent in 2015. Likewise, the number of users who used desktops to read emails has also been significantly decreased.
On the other hand, only 8 percent of users relied on their mobile devices to access, their emails back in 2010 but it did saw a steep increase to 45 percent in 2015. This implies that making email marketing mobile friendly is the ideal thing to do now.